Construction Management Software Buyer's Guide
This guide was created to provide you with a comprehensive overview of best-in-class construction project management software offerings and give you a better understanding of what to look for before making a buying decision.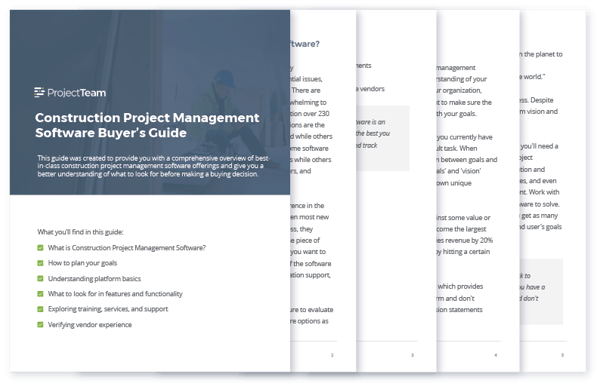 Read this guide before you buy software
Investing in construction project software can make a huge difference in the overall efficiency and productivity of your construction team, as well as the overall profitability of your projects and company. Making the wrong choice can cause enormous disruption, frustrate employees, and drain time and financial resources.
When most new buyers start their journey to find the perfect tool for their business, they usually focus solely on software features.
However, this is just one piece of your overall investment. When you choose a solution, of course, you want to find the right features, but you are also investing in the vendor of that solution and their commitment to technical leadership, industry experience, implementation support, professional services, future release plans, and more. Most importantly, you want to achieve an excellent return on investment (ROI).

What you'll learn:

Planning your goals

Tough questions to ask vendors

Avoid "salesy workarounds"