INTEGRATION
ProjectTeam.com + Sage Integration
Connect your accounting and project management teams with streamlined access to field and financial data.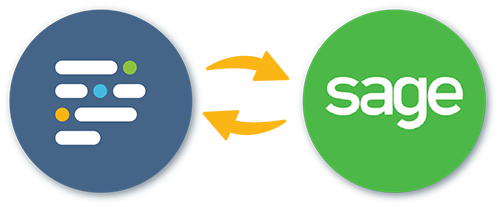 Robust, two-way integration ability
ELIMINATE COMMUNICATION BARRIERS
Streamline approval tasks
With a ProjectTeam + Sage integration, you can effectively manage large and small projects and eliminate communication barriers with project stakeholders.
Synchronize budget and cost data for all of your projects in one location, standardize accounting workflows, and eliminate double entry.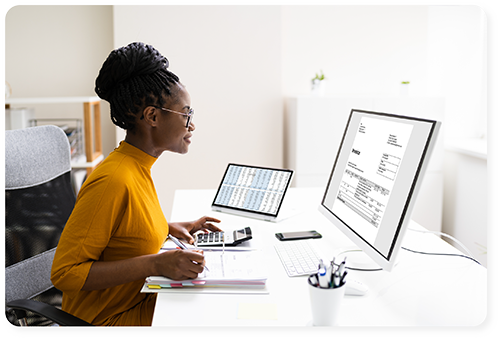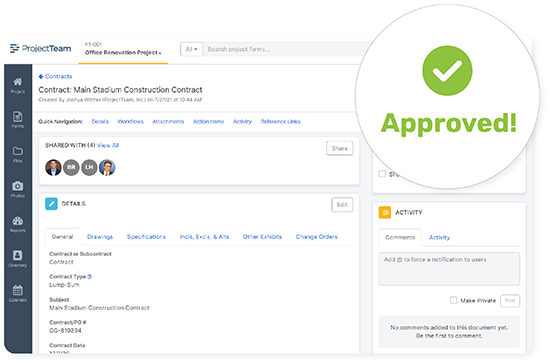 REDUCE HUMAN ERRORS
Eliminate double data entry
With the help of our joint development partner HH2 and their Universal Construction Model (UCM), we can integrate critical business processes such as project creation, vendors, budgets, contracts, change orders, payment applications, and more.
UNLIMITED CUSTOMIZATIONS
We match your exact requirements
One of the biggest advantages of the ProjectTeam platform is our industry-leading ability to customize the system to fit your exact needs. Whether that means completely new form types or just configuring certain fields, users can map those configurations into the integration to provide value that other static project management solutions simply can't.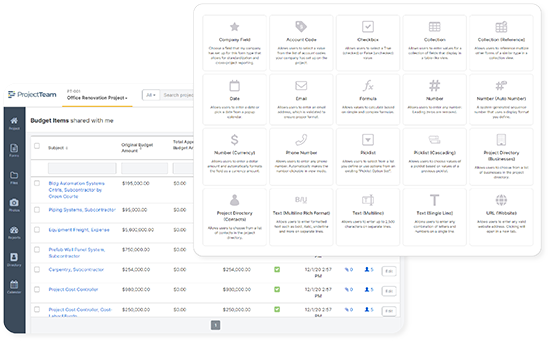 ProjectTeam.com is a great construction project management tool. I really enjoyed working with their team to build the integration with Sage 300 CRE. Because each integration is customized, we ended up with an integration that worked better for us than Procore's. ProjectTeam.com gives you the ability to completely customize the output of forms like Subcontracts, where it is important to have legal wording to protect both parties. They also have extremely robust reporting and dashboard capabilities.
Ashley F.
IT Business Analyst
Story Construction
Frequently asked questions
Why do companies integrate their construction business applications?
Today's construction organizations rely heavily on enterprise software applications. In most cases, those software applications are created by different vendors and built with different technologies and standards. Because of this, many organizations find themselves with massive amounts of data siloed in complex applications that require departments to have disjointed access to their data. The technical response to this problem is to integrate.
Integrations allow organizations to leverage their existing people, processes, and applications to create a unified overall solution. Well-thought-out integrations bridge the gap between multiple business functions and provide several benefits.
Common benefits include:
Better communication between stakeholders

Improved productivity

Improved data accessibility
What are common integration flows between project management software and accounting software?
Five popular integration flows related to project management and accounting software include:
A new job is created in the accounting system which creates a new project in ProjectTeam.com.
An estimate is approved in the accounting system which creates the original budget in ProjectTeam.com.
A budget adjustment is approved in ProjectTeam.com which creates a new transaction in the accounting system.
A contract is finalized in the accounting system which creates a new contract or subcontract in ProjectTeam.com.
A contractor submits a payment application in ProjectTeam.com which gets approved and then flows over to AR invoices in the accounting software.
Can custom forms created in ProjectTeam.com be utilized in the integration?
Yes. Custom forms and custom fields added in ProjectTeam.com can be used for integration with third-party systems. Data can flow in both directions giving you ultimate flexibility in how you want your integration to work.
How much time does it take to get implemented?
Our experienced team of experts will walk you through the process to ensure a successful implementation of any integration. Discovery sessions will be held in the beginning to understand the business drivers behind each integration and a mapping document will be agreed upon before any work is started.
Once the requirements for the integration are finalized, the technical development of the integration is started. Depending on the size and complexity of integration, this usually takes between 2 weeks and 6 months.
At the end of implementation, you will have a working integration between ProjectTeam.com and your other systems based on your exact requirements.
What kind of customer support can I expect after the integration development is completed?
Customer support is included with all integrations to ProjectTeam.com. Our award-winning support staff is available to help with all of your technical questions.
The goal of a successful integration is to leverage your different systems for many years. During that time, systems change and therefore the integration rules may change. Our technical services will keep up with the changes and make sure your integration is held to the highest standard possible.
Our team is committed to being detailed, thorough, and responsive even after the initial development of your integration is complete.